As we celebrate over 30 years in the industry, we greatly value our customers' trust and confidence. We sincerely appreciate your loyalty to our business. We acknowledge that without YOU, there would not be Resort Trades.
We are working diligently on NEW products and improving our products. We have added SEO staff and researchers to work on adding great value and ROI to your investment and improve your marketing exposure.
We are looking forward to meeting you and sharing the Resort Trades family with you.
Website Banners
Sidebar Banners on www.resorttrades.com
300×250 $500/Month
125×125 $200/Month
Resort Weekly eNewsletter Banners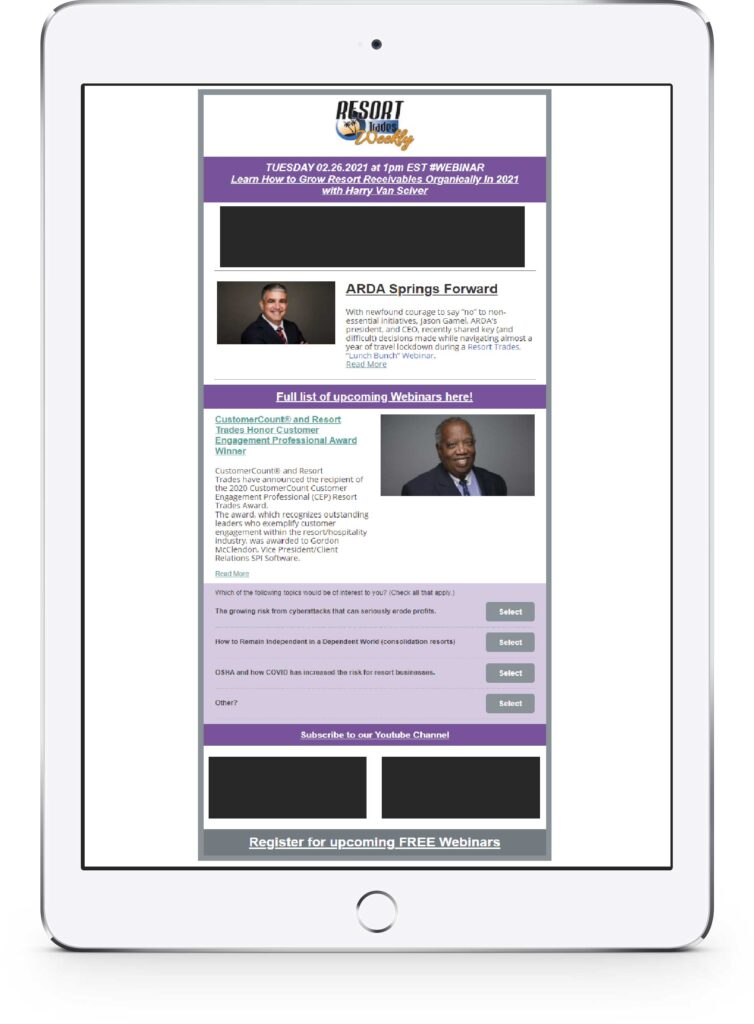 Promote your products and/or services to our verified email list published every Thursday @10:30 am CST
Header Banner (540×100) $1250/month (4 blasts total)
Footer (260×100) 2 spots available $750/month (4 blasts total)
Dedicated eBlast
Resort Trades is giving you the opportunity to use our 7,733 loyal subscribers to promote your products and/or services. Published Monday @10:30 am CST, choose an available Monday and provide us with the HTML code to get started.
$1250/week
The newest opportunity is a Digital Showcase EVENT
Online live events displaying your product or service are recorded and uploaded to YouTube. During these challenging times, our community needs to connect!
$750 Introductory Rate